Welcome to REITMEIER.com if this is your last name, this is your website!

Sept 14, 2013 at 8:30am, Cousin Michael
(as he was know to so many)
gave up his fight with cancer and joined his Mother and Ancestors.

Michael Erwin Reitmeier

Born in Crookston, MN on Dec. 9, 1954
Departed on Sep. 14, 2012 and resided in Crookston, MN.
Visitation:
Tuesday, Sep. 18, 2012 5:00 pm - 7:00 pm
Service:
Wednesday, Sep. 19, 2012 11:00 am
Cemetery:
Oakdale Cemetery Next to His Grandfather and Grandmother Reitmeier
Michael Erwin Reitmeier, 57, of Crookston, MN, died at the family farm Friday morning, September 14, 2012, following a courageous battle against cancer. Mike was born in Crookston on December 9, 1954, and was the first of three children of the union of Erwin "Mike" and Barbara (Preisen) Reitmeier. He grew up on the family farm, and was baptized and confirmed at Our Savior's Lutheran Church in Crookston. He was a member of the Crookston High School class of 1973. Due to the nature of his job, Michael's spent much of his time in the northwest United States, where he met and married Angela Heffernan on June 18, 1983 in Puyallup, Washington. From their union, they were blessed with two daughters, Alison and Heidi Reitmeier. Michael was employed as a truck driver by Northern Co-Op, Palouse Producers, and Altendorf Trucking. On May 16, 2006, Michael was united in marriage to Jen Kiene in Las Vegas, Nevada. The two worked together to start Blue Marble Trucking, which Michael owned until March of 2012 when he became too sick to continue the business.
Michael enjoyed doing anything that required tinkering and working with his hands. While he worked with his dad, on the family farm, he also enjoyed hunting with the Reitmeier men and fishing at Lake of the Woods with his dad. He was also the proud owner of a Harley Davidson motorcycle, of which he took a great deal of pride in. He was a member of various bowling leagues in North Dakota as well as a part of a dart league in Grand Forks. May God bless Michael's memory.

Michael is survived by his dad, Erwin "Mike" Reitmeier of Crookston; two daughters, Alison Reitmeier of Lewiston, Idaho and Heidi Reitmeier of Missoula, Montana; sisters Mari Beth Reitmeier of Fargo, ND and Lori (Randy) Wolff of East Grand Forks, MN and their children Cody and Erin; and many cousins who loved him dearly. Michael is preceded in death by his mom, Barbara Jean Reitmeier who died in 2005; and his grandparents, Edward and Ida Reitmeier, Bessie Rudd, and Alferd Preisen. The family would like to thank all the caregivers that helped Mike during all of this, especially Sheila Seyerson, Winston Johnson, Jackie Tjossem, Lacy Bridgeford, Jodi Jorgenson, and all family members who helped.
A funeral service celebrating the life of Michael Erwin Reitmeier will be held Wednesday, September 19, 2012 at 11:00 a.m. in Our Savior's Lutheran Church in Crookston, with the Rev. Timothy Winterstein, officiating. Visitation with the family will be Tuesday, September 18, 2012 from 5:00-7:00 p.m. with a prayer service at 7:00 p.m. at Stenshoel-Houske Funeral Home, and also for one hour prior to the funeral service. Burial will take place at Oakdale Cemetery immediately following the service. In lieu of flowers, memorials to the family are preferred.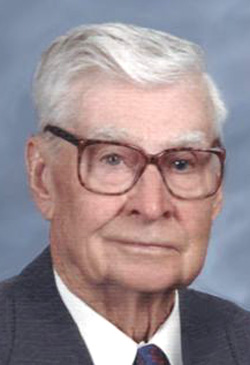 Willard Wentzel Reitmeier
, 94, a lifelong Crookston, Minnesota resident, died peacefully late Wednesday evening, January 6, 2010, at the Villa St. Vincent Nursing Home in Crookston. Memories and Obit here.


In the winter of 1995, Willard was interviewed by German
foreign exchange student Henry Foerster about his
experiences in World War II.
Here's the text of that interview
Memories of Grace Reitmeier HERE
Willard turns 93! Pictures Here
Here's Willard and his great niece Halle Halloween 2008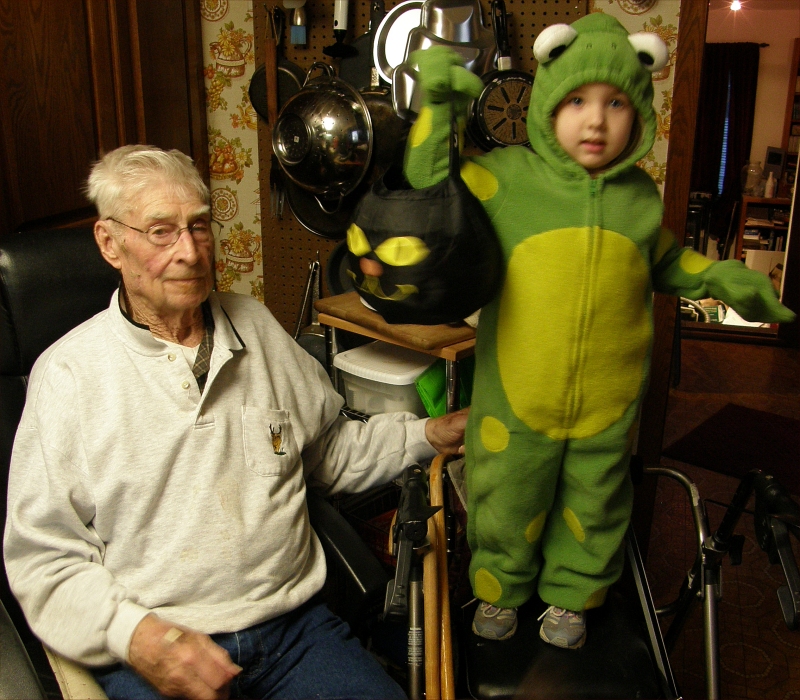 Another Reitmeier welcomed into the world!
Niclas Reitmeier
Son from Markus und Claudia Reitmeier
Grandson from my Brother Martin u. Roswita Reitmeier from Ottobeuren.

* 24 Juni 2008 at Scheidegg, Germany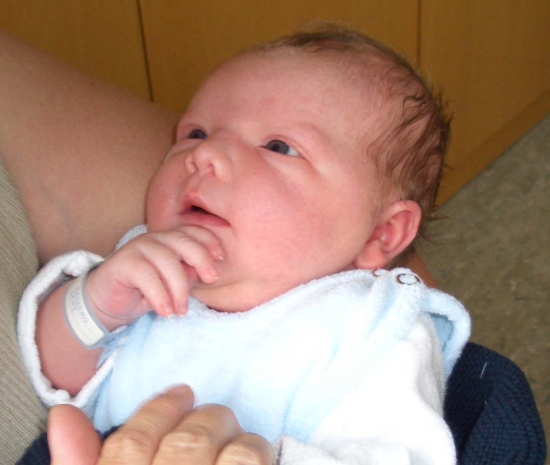 12,20, 2005 Halle Ruth Reitmeier, born to Paul & Leah at about 12:20 am.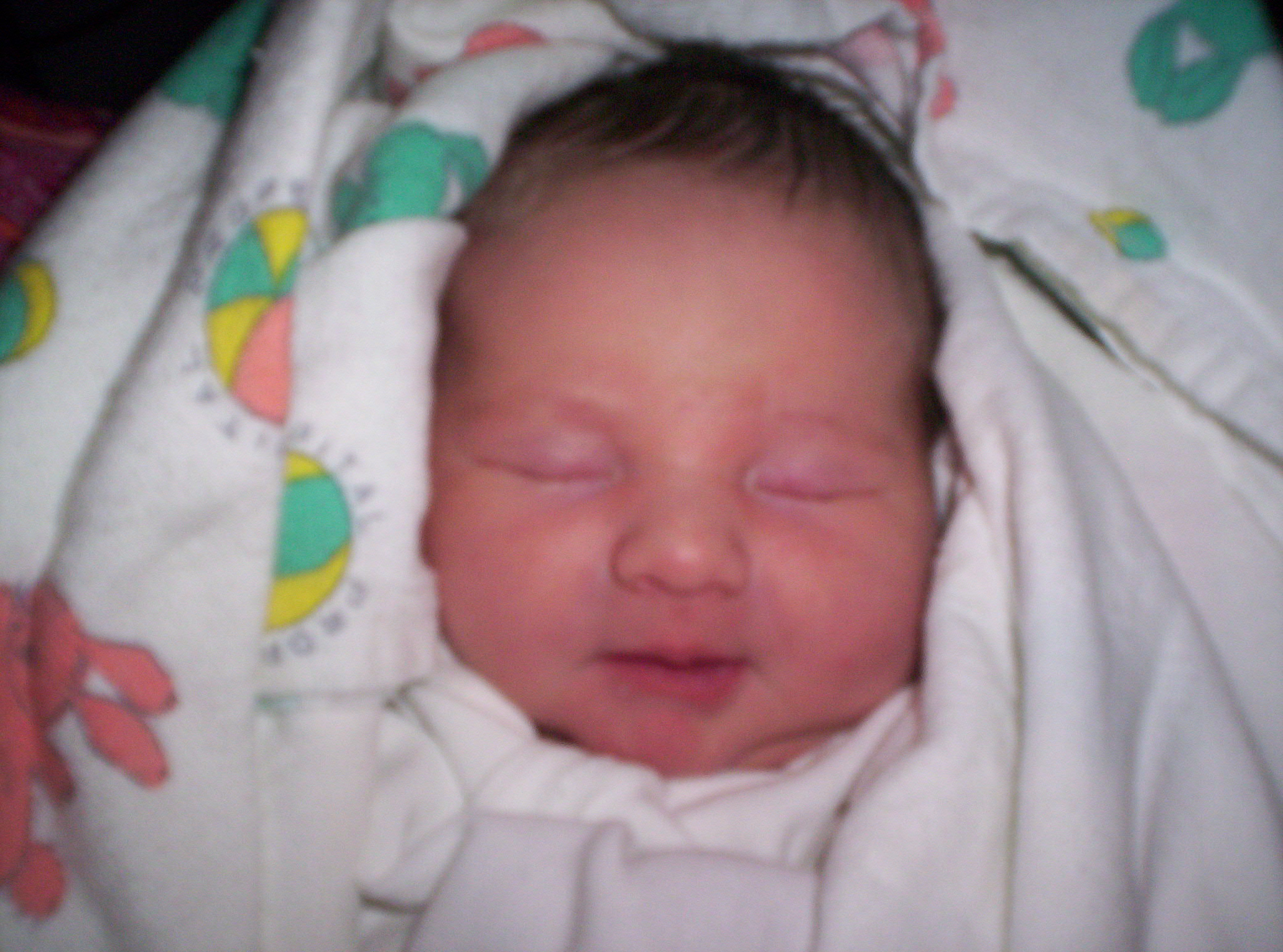 Memorial Day Grave Responsibility for Crookston Cemetery

2006
Willard Family
2012
2018
2024
2030
2007
Edward Family
2013
2019
2025
2031
2008
Lloyd Family
2014
2020
2026
2032
2009
Marvin Family
2015
2021
2027
2033
2010
Ernest Family
2016
2022
2028
2034
2011
Erwin Family
2017
2023
2029
2035

LOCATIONS INCLUDE:
Great Grand Parents (8 plots)
Uncle John
----------------------------
GrandPa ED/Grandma Ida /Arnold/Pauline/Michael (6? plots)
---------------------------
Meda & Mike Buness
----------------------------------------------
OTHER LOCATIONS:
Eric Reitmeier
(NW of Grandpa Edward, aprox 100 ft)
Willard Reitmeier Family (4 plots)
Lloyd/Audry (2 plots)
Marvin/Aldores (2 plots)
Erwin/Barbara (2 plots)
Ernest/Joyce (2 plots)


Edward/Lucille Fisher


Irene Ross (1/10/1921) Widow of Amos (7/13/17) Mother to Gayle Wardner
Willard Reitmeier 91st Birthday Widower of Grace Parents to John & Jane
Joyce Reitmeier Widow of Ernest
Lloyd Reitmeier Husband of Audry
Erwin (Mike) Reitmeier Widower of Barbara
Willis Wagner Widower of Marilyn (Tangen)
Marvin & Aldores Reitmeier
Children of Edward H and Ida Reitmeier were/are
Arnold Willard Edward Meda Lloyd Marvin Ernest Erwin (Mike)
Sugarbeet
museum honors

Reitmeiers
(Crookston Times Summer 2005)
By Mike Christopherson, Managing Editor
The thing that makes the local sugarbeet museum initiative so interesting, John Reitmeier explained Wednesday, is that it encompasses the entire history of sugarbeet farming in Crookston and the Red River Valley.
"Wheat has been farmed for thousands and thousands of years," Reitmeier said while standing in a quonset to get out of the rain at the farm of his father, Willard. "Sugarbeets are a new crop, going back less than 100 years, with inventions and innovations developed in the lifetimes of the people you see here. A lot of the testing and development was conducted right on these very fields."
The "people" that various members of the media could see surrounding Reitmeier were many other Reitmeier men, including great-grandsons, grandsons and sons of Edward H. Reitmeier, who's son Willard is being honored by the local sugarbeet museum initiative.
Although the museum is not yet completed at the former Crookston Implement site on the east edge of town, the eight people behind the project are hosting their inaugural Harvest Festival on Sunday, Sept. 11. In accordance with what they're hoping becomes an annual celebration, they want to honor an individual or farm family each year that have "done a lot to develop this industry," explained Allan Dragseth, who heads up the museum initiative. This first year, Willard Reitmeier, the surviving patriarch of the Edward H. Reitmeier family and second oldest son of Edward H., is being honored.
Willard will be a featured guest at the Harvest Festival, and in Saturday's Ox Cart Days Torchlight Parade he'll be a passenger in a convertible.
Dragseth said the honor doesn't have a specific name yet, and museum leaders aren't in a big hurry to come up with one. "There are so many halls of fame and other awards, we're going to take our time and come up with something that fits," he said.
Rich history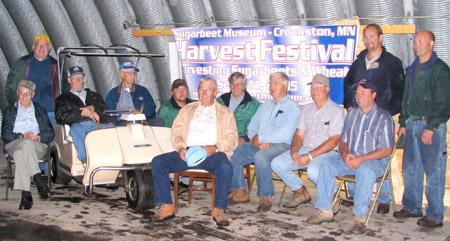 Willard Reitmeier, seated on the left in the golf cart, was joined by several other Reitmeiers Wednesday at the announcement that he's being honored, on behalf of the Edward H. Reitmeier family, by the local sugarbeet museum initiative. (Mike Christopherson, Photographer)
In the 1920s sugarbeet cultivation was much different than it is today. Beets were handled mostly by hand, pulled from the ground one row at a time, the tops taken off with a machete that had a curved hook at the end, then thrown into rows. Those rows were loaded into carts with pitchfork like shovels and then driven to a rail station where they were again loaded by hand onto rail cars headed to Chaska for processing.
Willard, as a result of the loss of his Wife, Grace, is now living back on the family farm, the farm he developed since his return from World War II. Although he's not circling the fields in any of the newer and bigger equipment, there's still a daily "tour" of the fields, either in his pickup truck or in an antique Harley Davidson golf cart.
Often over the years the story has been told of how the farm wives were as close to farming as the men. In the early years Willard farmed with his next oldest brother Edward, Jr., and the women not only did all the work that's been glorified in historical cookbooks, but Grace and Lucille traded off days of standing on the back of the sugarbeet loader and separating the beets from the clumps of mud that were coming by the conveyer belt. It was one day of cooking for the entire crew along with running a household, followed by a day of throwing mud clumps standing on a moving machine in all kinds of weather. Grace always used to ask, "Which day was the vacation day?"
At the Harvest Festival, there will be shuttle busses to take people from the museum to nearby beet fields and grain fields where they can watch how the labor intensive harvesting used to go. There will be a one row harvester of the same model that the women used to ride along with a large display of equipment from the early days right up to our current, modern times, Dragseth explained.
All of the Reitmeier sons became farmers. The eldest, Arnold became the first sugarbeet "boss" of the family. He passed away in 1953. Other brothers include Willard, Edward, Marvin, Lloyd, Ernest and Erwin (Mike). Now Edward H. Reitmeier's grandsons and great-grandsons are carrying on the tradition.
(Picture: Seated Marvin, Standing John Seated Willard, Lloyd, Justin, Mike (Erwin, Everett, Ronald, Leroy Paul, Standing Lance, Jason)
A n c e s t o r y . c o m states they have found 21 matches in New York Passenger Lists, 1851-1891
10 matches in Passenger and Immigration Lists Index, 1500s-1900s 8 matches in New York Port, Ship Images, 1851-1891
1 matches in New York Petitions for Naturalization 1 matches in Philadelphia Passenger Lists, 1883-1945
3 matches in Minnesota Naturalization Records Index, 1854-1957
and this is part of a chart of Reitmeier's coming to America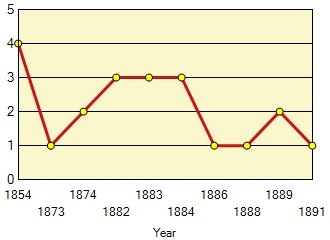 If you have info about the above, please let me know.


<--Click this link for info, make sure you click it here to get Eurail passes

Europe 2005, pictures and web page coming soon!
I was 4 times to Europe in 2003, here's some fun memories!
Summer trip info - CLICK HERE

Yes it's true, I used to own/operate a Bed & Breakfast. Memories
Great Grandpa was William Reitmeier. he was born June 30, 1840 at Danzig Prussia and immigrated to Wisconsin in 1865. He was married to Wilhelmina Yahr born July 4, 1849 the daughter of Michael Yahr born August 8,1801 and his wife Elizabeth born FEb. 23, 1812. Wilhelmina was born at Teckelenbeg Westphalen.
---
Hallo, Im Rudi Maus from Germany and Im looking for the following living Reitmeier-Individuals:
Peter Paul REITMEIER, Armella Hedwig (BARTHEL) Reitmeier,
children: Dianna Marie Reitmeier, Paulette Cecelia REITMEIER, Anna REITMEIER, Paul Titus REITMEIER,
children of Paul Titus: Kaitlyn Anna REITMEIER, Taylor Cornelis REITMEIER, Grayson Peter REITMEIER,

Can anybody help me. All the Reitmeier-individuals are cousins and decends from my MAUS-line. So I try to get in contact to share all the info I have.
If you have any information, clue or an idea to make progress in searching the REITMEIER family, please send me a mail to rudi.maus@t-online.de
Thanks so far, Rudi
---
Also from our friends in Germany, several of the registered coat of arms over the years, and the various spellings of the name! (Permission to use freely given, but please link/make reference to this site!)
What does the Crest info/color all mean?



Click the thumbnail for larger image
Appears to be the oldest!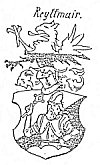 Click the thumbnail for larger image
Below is the coat of arms that most of our family has had reproduced (or a variation thereof), however it appears to be for a different spelling!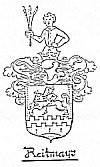 Click the thumbnail for larger image




Click the thumbnail for larger image
What appears to be our most recent & current Coat of Arms!



Click the thumbnail for larger image
THIS IS THE ONE THAT I'm OFFICIALLY ADOPTING AS MY FAMILY CREST!
What does the Crest info/color all mean?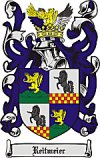 Click the thumbnail for larger image
What does the Crest info/color all mean?
_________________________________________________________
This arrived in January 2003
Hallo john, (sorry for my bad english)
my name is Michael Reithmeier and i come from Germany (Baden-Wuerttemberg/Black Forest). I found your page on the internet and some interesting information about the Reithmeiers and
I saw some coat of arms, too. Therefore i send you my family crest.
Greetings from Germany (Michael's email is: michael.reithmeier@gmx.de


Click the thumbnail for larger image
coat of arms of the family Reitmeier
Acharius Reyttmair received from the Kaiser
letter dated May of 1559
_____________________________________________________________
Places I've Lived:
Childhood: Dec 1951 till spring of 71
Route 1 Box 24, Crookston MN 56716
spring 71
Floodeen farmstead 1 quarter of college UMC
summer 71
Back to the farm fall last qtr College UMC
Spring/summer 72
traveling across W. Canada in band
aug 72
706 234 Ronald Street Winnipeg YAMAHA Music Center 1330 Portage Ave Winnipeg Manitoba
Spring 73
On the Road with the bands Pierce Hartford, C&J Show, New Canadian Downbeats, the Incredible Laughing Band
Penthouse #9 200 Ronald Street Winnipeg Yamaha Canada (wholesale div)
fall 75 or 6?
46 Carmen Terrace (mobile home) Jonathan's Music Shoppe
South Washington Farmstead Jonathan's
Farm Closed Jonathan's
fall 77-winter 78
Cedar Square West in MSP where Mary Tyler Moore show was set
Brown College
Farm KNOX Farm Director
Duplex south end of Grand Forks with Jane KNOX then KRAD nighttime DJ
Mobile Home in EGF with Jane Mars Drive KRAD nighttime, then AM then middays
Fall 79
TO CAL! Bob's Apt in Cal Car across had license IM1RU12
Apartment east side of Vegas (shadow of sunrise mountain) KDWN first job Fall 79-Feb 80
Spring 80
Farm FM97 KDWZ Radio station
prison style apartment building in vegas Nights KDWN on Paradise Road
Fisher Space Pen Boulder City
17413 Tiara Street Encino
83
KORK News Director Vegas Apt. E. Las Vegas 2nd floor
1st Gall bladder operation Ecino
17413 Tiara Street Encino CA left for TN in Aug
325 Honey Hill Drive, Nashville TN
Watched first Oprah show Gall Bladder Operation fix at Vanderbuilt
Red Beam Drive Torrance worked for Accountants on Call rental
Van Ness Ave 4 bedroom Condo in Torrance Accountants on Call
88-91?
5940 High Place Drive San Diego, sold for 641,000 in 2004 mostly Fisher Pen
?1991
Arno Road House high on a hill SE of Franklin past school Transition house
?1991-1994
Carothers House 4301 Carothers Road, Franklin TN B&B
March 3, 1994-Present
28691 230th Street SW Crookston, MN (was know as Route 1 box 24)
As yet unknown date.
Heaven