(suggested links to add? please email me)
Welcome to Reitmeier.com
in Crookston Minnesota
Great Grandpa was William Reitmeier. he was born June 30, 1840 at Danzig Prussia and immigrated to Wisconsin in 1865. He was married to Wilhelmina Yahr born July 4, 1849 the daughter of Michael Yahr born August 8,1801 and his wife Elizabeth born FEb. 23, 1812. Wilhelmina was born at Teckelenbeg Westphalen.
---
Hallo, I´m Rudi Maus from Germany and I´m looking for the following living Reitmeier-Individuals:
Peter Paul REITMEIER,
Armella Hedwig (BARTHEL) Reitmeier,
children:
Dianna Marie Reitmeier,
Paulette Cecelia REITMEIER,
Anna REITMEIER,
Paul Titus REITMEIER,
children of Paul Titus:
Kaitlyn Anna REITMEIER,
Taylor Cornelis REITMEIER,
Grayson Peter REITMEIER,

Can anybody help me. All the Reitmeier-individuals are cousins and decends from my MAUS-line. So I try to get in contact to share all the info I have.
If you have any information, clue or an idea to make progress in searching the REITMEIER family, please send me a mail to rudi.maus@t-online.de
Thanks so far, Rudi
---
Also from our friends in Germany, several of the registered coat of arms over the years, and the various spellings of the name! (Permission to use freely given, but please link/make reference to this site!)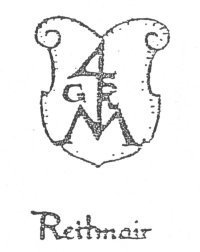 Appears to be the oldest!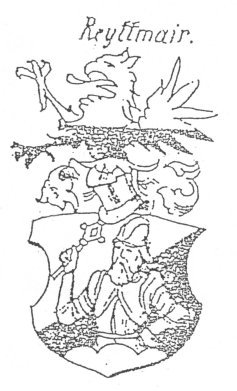 Below is the coat of arms that most of our family has had reproduced (or a variation thereof), however it appears to be for a different spelling!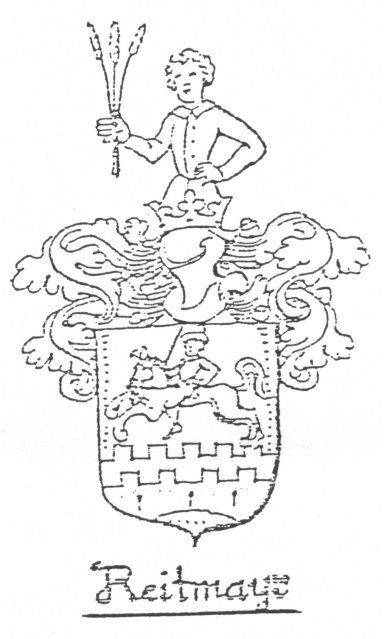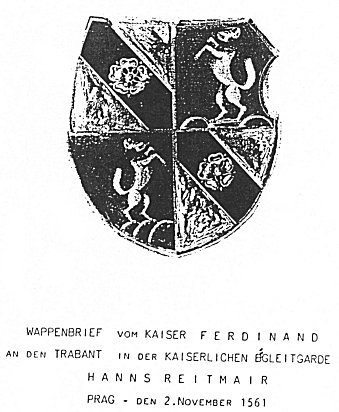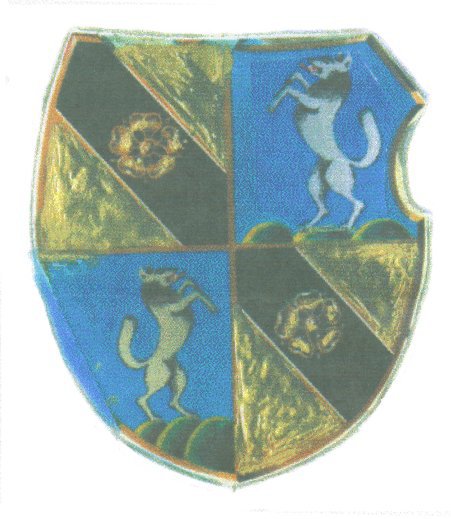 THIS IS THE ONE THAT I'm OFFICIALLY ADOPTING AS MY FAMILY CREST!